How the brain learns and how to make your training activities more brain-friendly
An interview with Teri Frith
Did you know that a lot of the things we now know about "how the brain actually learns" have only emerged in the last 15 years or so?
The neuroscience principles behind learning are reflected in a lots of good approaches of brain-friendly teaching available today.
One of them is the "Training from the BACK of the room" training. A mind-blowing technique aimed at trainers, teachers, and anyone who has to "pass knowledge to others".
When we had to organise our first-ever company Retreat, back in January 2018, the good old Dan North recommended we got in touch with Teri Frith, a certified "Training from the BACK of the room" trainer. So our Retreat was a 2-day "Training from the BACK of the room" training for our trainers and experts led by Teri.
Now you have a chance to read our interview with Teri and find out how to make your training activities more "brain-friendly". Our community really liked it… your turn now!
Avanscoperta: Hello Teri, long time no see! 🙂 Glad to have you becoming part of our team of trainers and experts! How are you doing?
Teri: Hi there! Great to be working with you again. I'm very well thank you 🙂
Avanscoperta: Let's kick off with the classic: When did you have your first experience of being a trainer, as in someone "transferring/transmitting something you knew to others"?
Teri: I remember being at school and helping my friends in mathematics class. The teacher would explain something, and one of my friends might not get it straight away. I'd step them through it, and the penny would drop.
It was no surprise that I went on to teach maths in secondary schools, particularly specialising in low-confidence borderline students.
Avanscoperta: Training is one of those activities that requires a lot of patience, for a variety of reason everyone of us can imagine (or has even experienced)…
Is patience one of those skills one can pick up, or is it more of an innate quality/attitude of a person? How can this be improved? Any tricks you'd like to share with us?
Teri: I have learned patience through experience.
If you have lived through someone working really hard for a long time, and then seeing them get there in the end, you're more likely to believe it'll happen in the future. A person can struggle with something for a whole day, seeming to make no progress.
But studies into neuroscience tell us that so much is going on behind the scenes, and how the passage of time, a change of context, and a good night's sleep can make all the difference. The person turns up the next day, resigned to the struggle, and then gets it first time! That's how I have learned patience and tenacity!
In terms of improvements or tricks: Having confidence in your learners, and showing them that you have confidence in them, really helps support learners to achieve their goals. And if you have confidence and faith that they'll get there, it's easier to be patient – you know it's just a matter of time, repetition, and support.
Avanscoperta: What's your background? And how did you get to know about Sharon Bowman, author of the book "Training from the BACK of the room", and her eponymous teaching style and workshop (of which, as we said, you're certified trainer)?
Teri: I have an academic background in engineering, and I spent 8 years as a Maths teacher in the UK. I currently scope, design, and coordinate training for a department of roughly 230 software engineering and supporting staff at Great Britain's national mapping agency, Ordnance Survey.
I came to know about "Training from the BACK of the room" though my involvement in the wider agile community. I had the privilege of attending Sharon Bowman's only UK train-the-trainer certification course, and fell in love with the methodologies she shared.
Avanscoperta: What was the impact of Sharon's message of your professional (and personal) life? How have things changed so far? Of course, you still have your daily job. How do the two things live together?
Teri: The course itself blew me away. I came back to work absolutely buzzing and I couldn't wait to share it with the agile community, facilitators, internal trainers and technical experts.
The course itself validated a lot of my existing knowledge in terms of how to deliver training effectively – I already knew what worked through experience.
The big value add for me was in learning the why and being able to explain this to the learners and other trainers. Understanding the basic scientific principles behind why one activity works and another one doesn't, was absolutely huge for me, and entirely accessible because of the way it is introduced.
Before Sharon, I wouldn't have read a neuroscience book of my own volition, but the course left me with an insatiable appetite to learn more!
As for my professional life: Over the last three years, with support from senior staff who have attended TFTBOTR, I have inspired a culture shift in our approach to learning and development activities at OS. Day to day group meetings and workshops have become noticeably more engaging across the department. In our annual OS Engineering Conference, there has been a dramatic increase in the proportion of interactive workshops in place of "Sage on the Stage" type lectures.
Training our geospatial and software experts in TFTBOTR has empowered those that don't consider themselves to be teachers to deliver effective learning activities, underpinned by brain science principles.
This training has strongly supported our talent strategy of "growing our own" engineers – and feedback from participants has been excellent.
Aside from delivering TFTBOTR training courses, I work with colleagues in the design, preparation and delivery of learning activities, offering as much or as little support and feedback as is needed, and reinforcing the key principles of brain-friendly learning across the department.
Avanscoperta: If you had to pick one… What's the main thing people need to be aware of with regards to how the brain actually learns?
Teri: The stronger the connections between the neurons in the brain, the longer we will retain the information.
Connections are reinforced each time we interact with information (the more times the better), and a multisensory approach (i.e. processing the information using more than one of our senses) creates stronger connections.
What does this mean in real life? Use a variety of short activities to process the information: read it, discuss it, draw an image or create an object to represent it, make a decision based on it etc.
Avanscoperta: You're the trainer of "Training from the BACK of the room" (TFTBOTR from now on), currently available in its online remote edition. Tell us something that will definitely convince us to buy a ticket and change the way we teach for good. 🙂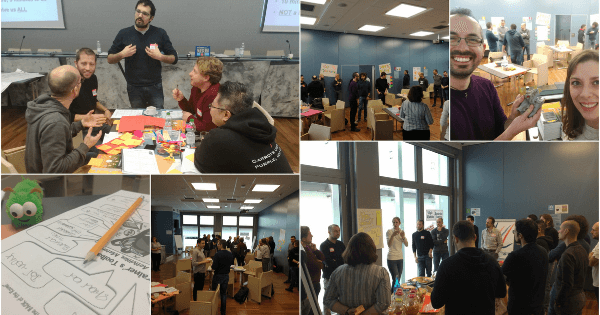 Teri: Not only does the workshop teach you new techniques, but I deliver the techniques via the techniques themselves. This means that in two days you get to experience, first hand, the impact that this style of teaching has on the learner. We form a supportive community of practitioners who are applying the principles to their own areas of expertise. You'll apply what you learn to your own training plan whilst the information is still fresh and get feedback from the community, benefitting from the varied and collective experience of everyone present.
You'll live it and learn it, and you'll never look at bubbles the same way again!
Avanscoperta: What's the audience that this kind of workshop tends to attract? In what way a program like TFTBOTR is useful to anyone (as in, not only tech people) involved in the big topic of "being a trainer/learning"?
Teri: The audience for TFTBOTR varies – outside of the technical or agile community, I have taught Human Resources professionals, service desk trainers, team leaders, communications professionals, police cadet leaders, a rock climbing instructor, and a race marshall, all of whom train groups of people.
The workshop applies to learning, not to any particular subject matter, so it's applicable to everyone.
It's worth saying that TFTBOTR is not a 101. There are basics in training that the course doesn't cover, such as presentation or public speaking skills.
The people who will get the most out of the course are those who already coach, deliver training, or facilitate workshops, because they can apply and validate the TFTBOTR principles from their own experiences.
That said, anyone new to training will still learn a tremendous amount, from both the course content and from the other learners. They will also have the course books and workbook (included in the cost) to refer back to after the workshop, as their skills develop in the future.
Avanscoperta: "Regular" training implies that one person explains stuff and other people sit and listen.
After so many years of being a trainer you might have asked yourself this question: Why this kind of normal "school-style" training doesn't really take into account the fundamental discoveries that a program like TFTBOTR is made of?
Teri: A lot of the things we now know about 'how the brain learns' have only emerged in the last 15 years or so, and public education has always had constraints on budget – so it makes sense that the public education sector has taken a 'high volume, low cost' approach to teaching in the past.
These days, I think a lot of teachers and trainers are much more aware of the importance of engaging their learners, even if they don't know the brain science principles behind it, and there are lots of examples of brain friendly teaching taking in place in schools today.
Avanscoperta: What's your secret to make your workshops engaging and fun?
Teri: Rule #1: I make it ABOUT THE LEARNERS – not about me!
Beyond that I make sure we have a clear goal, try to create a safe environment, and make the content as accessible as possible. I use creative ways to enact brain science principles, and explain why we're doing an activity in a particular way.
I hand over as much of the content as I can for the learners to do themselves, and encourage self and group reflection on what they have learned so far and what they will do next.
Avanscoperta: It won't be the first time you'll visit Bologna… you were the facilitator of Avanscoperta's first-ever Retreat (a story we've shared on this blogpost).
What's your favourite memory of those two crazy days of full immersion in our community of teachers and trainers? 😀
Teri: The two days were absolutely amazing, with a lot of shared moments, but my favourite has to be Raffaele and the Silent Coyote – a classroom management tool for getting people quiet, ready to move onto the next activity. To this day I can't keep a straight face while making the coyote sign… and I have a favourite photo of the whole class doing "the silent coyote".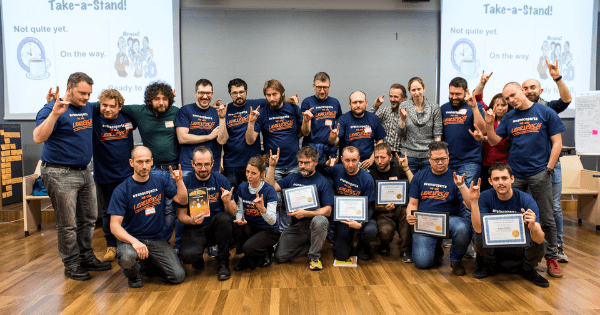 The two days with Teri have been extremely useful for me, both as a trainer and as a team leader. To know a topic and to be passionate about it are surely two great starting points but this doesn't imply being able to involve others and give birth to that magic called "learning". The theory and techniques used during the training course enabled me to change my approach to teaching.  
That's what Raffaele Boiano, CEO and Founder of Fifth Beat and Avanscoperta Trainer, says after taking part at Teri's "Training from the BACK of the room" (Avanscoperta Retreat #1, Bologna, January 2018)
Avanscoperta: What do you see as the natural first steps for someone who would like to start the path to become a trainer?
Teri: Training is about being able to clearly explain a concept by breaking it down into manageable chunks of information that the learner can relate to. So the first step is to explain something to someone. The next step is to see whether they have understood it – get them to play it back to you.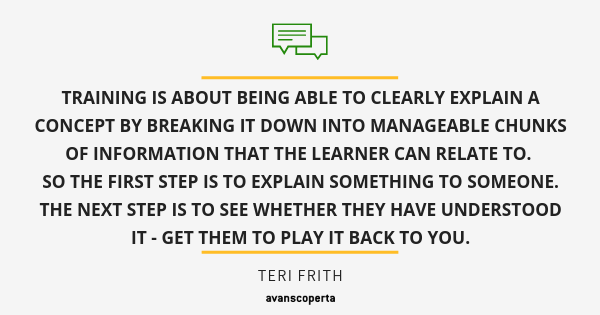 Avanscoperta: What's keeping you busy at the moment? Any exciting projects you've been working on lately?
Teri: It has been a busy few months, working on the Annual OS Engineering Conference (5 tracks) in May, and more recently focussing on bringing our next generation of future geospatial and software engineers into the organisation.
I'm currently working on some technical leadership training due to run in September, straight after my next TFTBOTR course in the UK. In my spare time I have just completed a prototype board game, called "Describe or Draw", for practising mathematics vocabulary, which my teaching colleagues are currently testing for me.
Avanscoperta: Tell us about the funniest moment that ever happened during one of your workshops! 🙂
Teri: A few of moments come to mind, including some excellent Pirate impersonations to help remember the 10 minute rule – "more of a guideline really" (quote from Pirates of the Caribbean), some very enthusiastic bubble blowing competitions, and – my all time favourite – watching a very passionate group of Italians launch into a heated debate about the 'right' way to create "carbonara". I could not stop laughing.
Avanscoperta: Well that's it Teri, thanks a lot for being with us, we leave the closing to you.
Teri: Thanks very much for interviewing me – I look forward to joining you in October for the next TFTBOTR course. The Avanscoperta Retreat was a lot of fun, and I was impressed with the high quality of discussion and ideas across the groups – it was very inspiring, and I can't wait to come back!
Pic credits: Maicol Rossellini, Avanscoperta.
This blog post was curated by Alessandra Granaudo and Enrico Meloni.
Learn with Teri Frith
Teri is the trainer of the Training from the BACK of the Room - TBR-VE Workshop.
Check out the full list of our upcoming training courses: Avanscoperta Workshops.