Avanscoperta Retreat #2 – Open Space
Once you pop, you cannot stop… And so that's how we ended up organising Avanscoperta's second Retreat in Bologna in January 2019!
We had so much fun the previous year, and the value for us, Avanscoperta, and for our trainers and partners alike, it has been so big that we simply couldn't let other year pass without gather to learn new stuff, find out and explore new ideas… you know how it works, right? 🙂
So we kicked off the invitation and organisation process, and got in touch with all of our trainers, some of the wanna-be trainers, and people who've been gravitating around the Avanscoperta spaceship for some time now.
We were confident all of them would have added value to the conversations that eventually took place in those two days (and nights!) in Bologna. And we were right! Read on and find out more.
Previously on: Avanscoperta Retreat #1
Our first Retreat was focused on providing our trainers with some teaching tools, and therefore we arranged for a 2-day "Training from the back of the room" workshop with Teri Frith.
Under the "A training for trainers" flag, we spent two days with Teri and her assistant Teresa Binks learning how people learn best, modelling new ideas for brand-new or revisited workshops and courses.
You can check out a full report of Avanscoperta Retreat #1 here.
Next up: Avanscoperta Retreat #2
But as we get bored easily and don't like to repeat ourselves, plus there were a lot a new people this year… we had to do something different. 🙂
Quoting our very straightforward, no-frills invitation:
The feedback received the year before told us you would have preferred a less formal format, and more opportunities to talk and exchange ideas in general.
That's exactly what we did.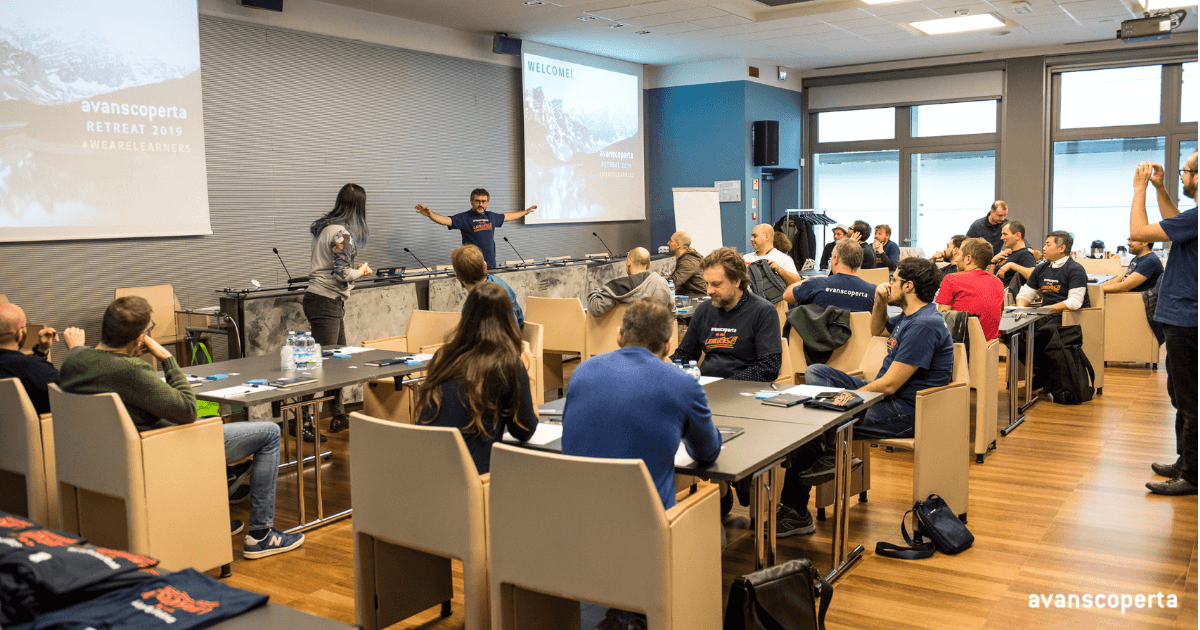 This year's focus was very broadly on teaching and it came under the Unconference / Open Space Technology format.
But again, that's a lot of excuses… the official reason for organising our second Retreat is: we had too much fun the year before we couldn't NOT do it again! 🙂
Considering the majority of the people in the class already have extensive experience in facilitating groups and teaching, and as they were big stakeholders on the overall conversation, we just couldn't "sacrifice" one of them to the role of facilitator.
Therefore we needed to involve a new, external person to look after facilitating the conversations with a fresh perspective throughout the two days.
The choice has been Erin "Folletto" Casali, a person we've been following for some time, and since the timing and occasion seemed just right, she took the lead… and we've been very happy with how things went start to finish! 🙂
Yeah cool… then what happened during the Retreat #2?
Day 1
After a mandatory intro by Avanscoperta Founder Alberto Brandolini, who said that:
"This time it's less about having a guide and a strict classroom format, and more about putting together and sharing what we have already done and experimented during these years.
So let's have a more open format, allowing all participants to have a more active role".
(watch the full intro, in pure Romagnolo accent, here)
Erin "Folletto" Casali kicked off the 2-day unconference with an ice-breaker: participants had to… draw a cat in pairs by using a set number of symbols!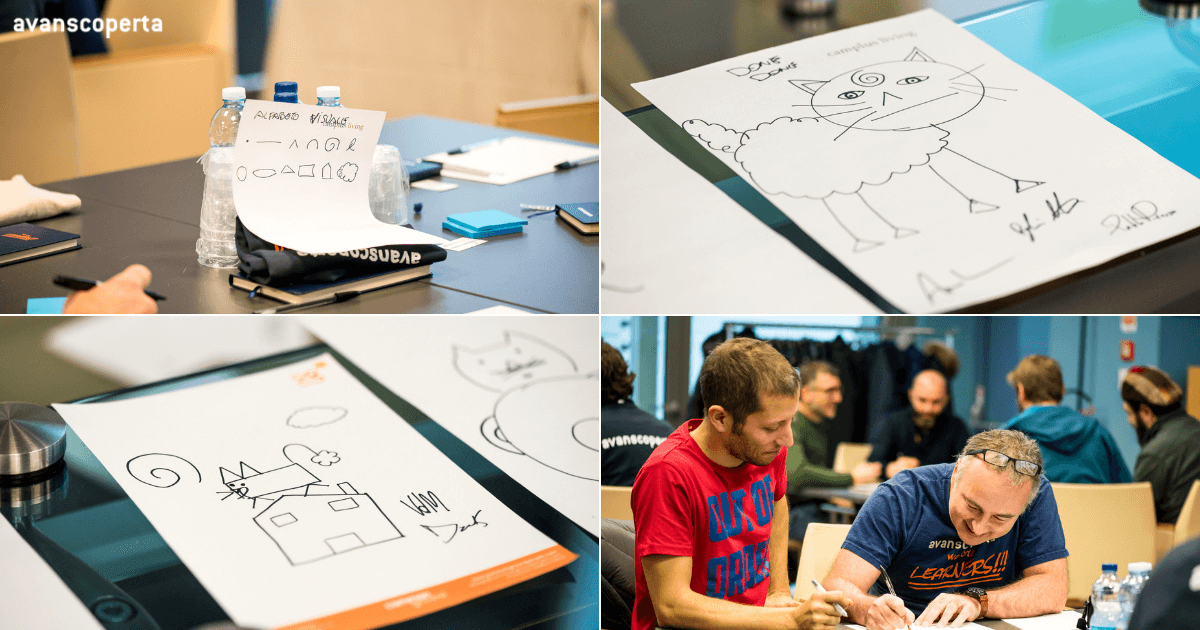 This was followed by a start-stop-continue retrospective: anything Avanscoperta-related could fit there.
Answers ranged from "start: giving a workshop" to "stop: procrastinating!" all the way through "continue: provide honest unfiltered feedback from participants"… there's been something for all tastes really. And after this general framing of the scope of the event, we went on defining the themes for the two days.
Having three rooms at our disposal has proven extremely beneficial: one room for the general stuff, wrap up, and general sessions, and two smaller rooms to be used in parallel for the 50-minute sessions that were proposed by the participants.
As mentioned, we followed the Open Space Technology format, so no agenda was agreed beforehand, and everyone has had the opportunity to contribute to it.
Whoever proposed a topic/session could explain it to others and people could decide to participate in whatever session they judged more interesting.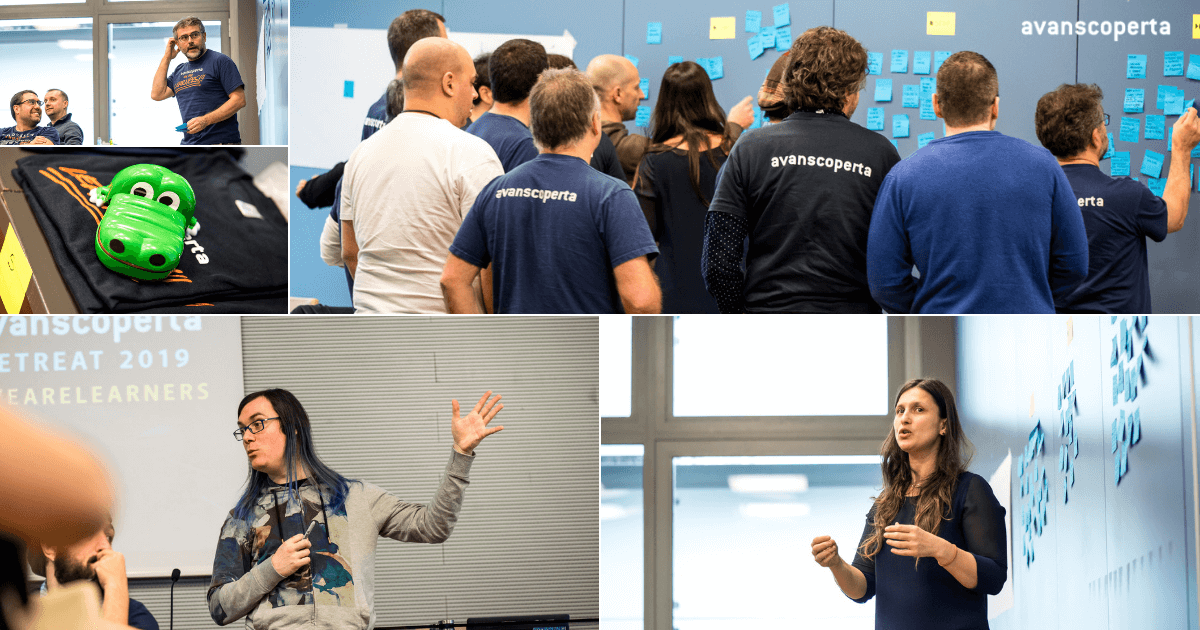 Geeks Just Wanna Have Fun!
Did you know Bologna is hometown of great culinary experiences? Well… you probably do know by now. 🙂
Dinner is always a key element of networking in events of any kind, and our Retreat was no exception.
The choice of a cozy restaurant in the city centre where seafood from the Riviera romagnola served with exceptional attention to details and to the quality of the fish itself might not be the first thing you think about if talking about food in Bologna, but we surely didn't leave the restaurant with a sour aftertaste! 🙂
The menu was just delicious start to finish as well as the wine and, did we mention it, the amazing company of our trainers and partners? 🙂
A lot of conversations carried on over dinner and we're sure that fueled the brains of all participants for the day after.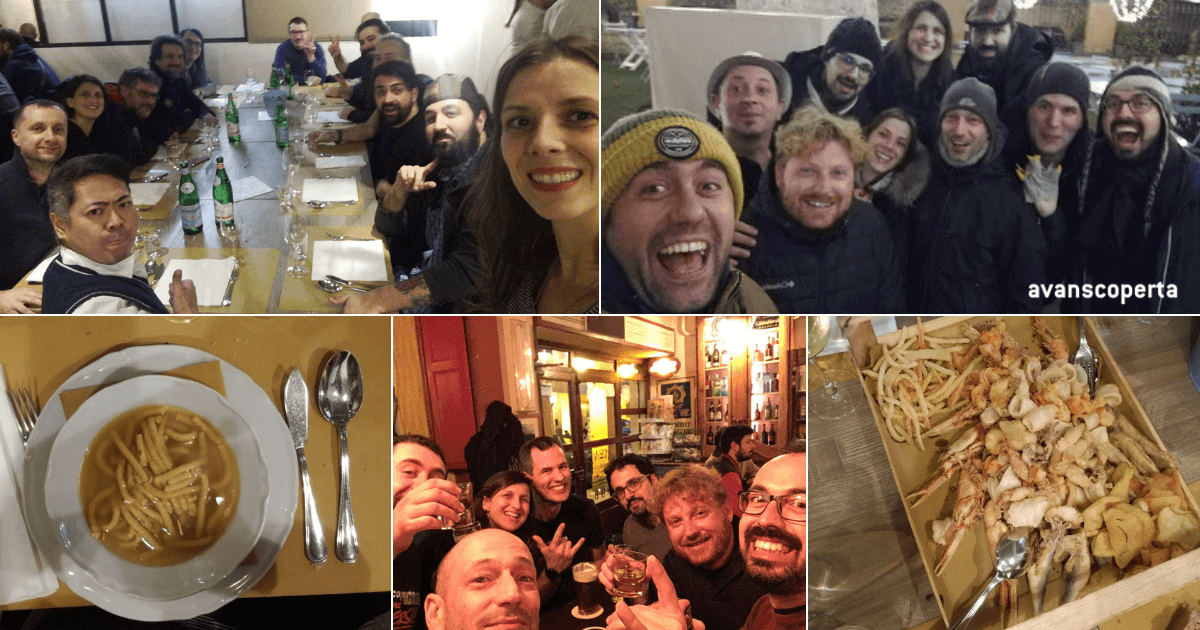 Day 2
Wake up! 🙂 After a great evening out all together, it's time to start working again.
Ideas and sessions start to flow as naturally as it happened on day 1, and Erin "Folletto" Casali was great once again in managing the groups.
A big focus throughout the two days has been discussing and exploring new teaching formats, new topics, and the possibility of opening up to completely new opportunities among people who just did not have a common platform to discuss ideas and let good stuff emerge easily.
This might mean that in the future you'll see completely new workshops on new topics you were only dreaming of… who knows! 🙂
That's one of our end goals – put smart people together and let them cooperate – so we've been delighted to be able to facilitate this once again during our Retreat.
Outcomes – What's next?
A lot of good ideas and excellent discussions emerged during these two days spent with our community of trainers and partners.
We know you wanna know more… so a little spoiler is: we're gonna put together an Avanscoperta Wiki detailing some of the teaching principles we believe in and we encourage our trainers to follow during our workshops, we're planning some big big events for the coming months, we're committed to be clearer in our communication with "the outside world"… and much more! Curious?
This means Avanscoperta has A LOT to do in the coming months to make sure what was proposed is followed up and, at least… tried. 🙂
Keep on following us on this blog and on our social media pages as well as on our website 'cause 2019 will be full of surprises!
Ready to fulfill our #WeAreLearners mission once again…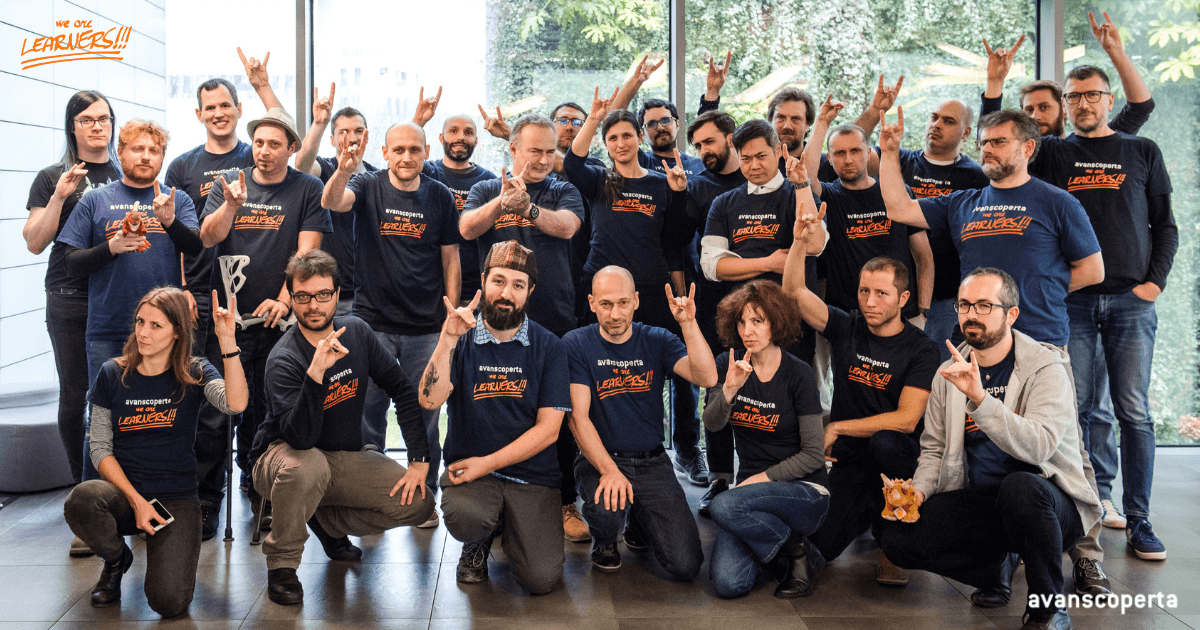 Thanks to all participants and to Erin "Folletto" Casali for making these two days absolutely memorable. To the next one!
---
See you at Avanscoperta Retreat #3?
Sure… and while we're waiting:
Watch the official pics of Avanscoperta Retreat #2 (credits: Maicol Rossellini).
Wanna travel back in time? Read the blog post on Avanscoperta Retreat #1 (Bologna, 15-16 January 2018).
Get our updates, a hand-picked selection of articles, events and videos straight into your inbox... Once a week!
Subscribe to Avanscoperta's Newsletter (available in Italian and English).
Check out the full list of our upcoming training courses: Avanscoperta Workshops.