Alberto Brandolini's Keynote at DDD eXchange 2018 (Skills Matter, London)
Alberto Brandolini's Keynote at DDD eXchange 2018 (Skills Matter, London) "Joys and Pitfalls of Collaborative Modelling"
Alberto Brandolini aka @ziobrando was invited to give a keynote at DDD eXchange 2018, the world's longest running conference on all the things Domain-Driven Design (at its 10th edition… wow!).
DDDX was organised once again by Skills Matter and it took place at CodeNode, Skills Matter's home, right in the right in the middle of the City of London, on April 26 and 27 2018.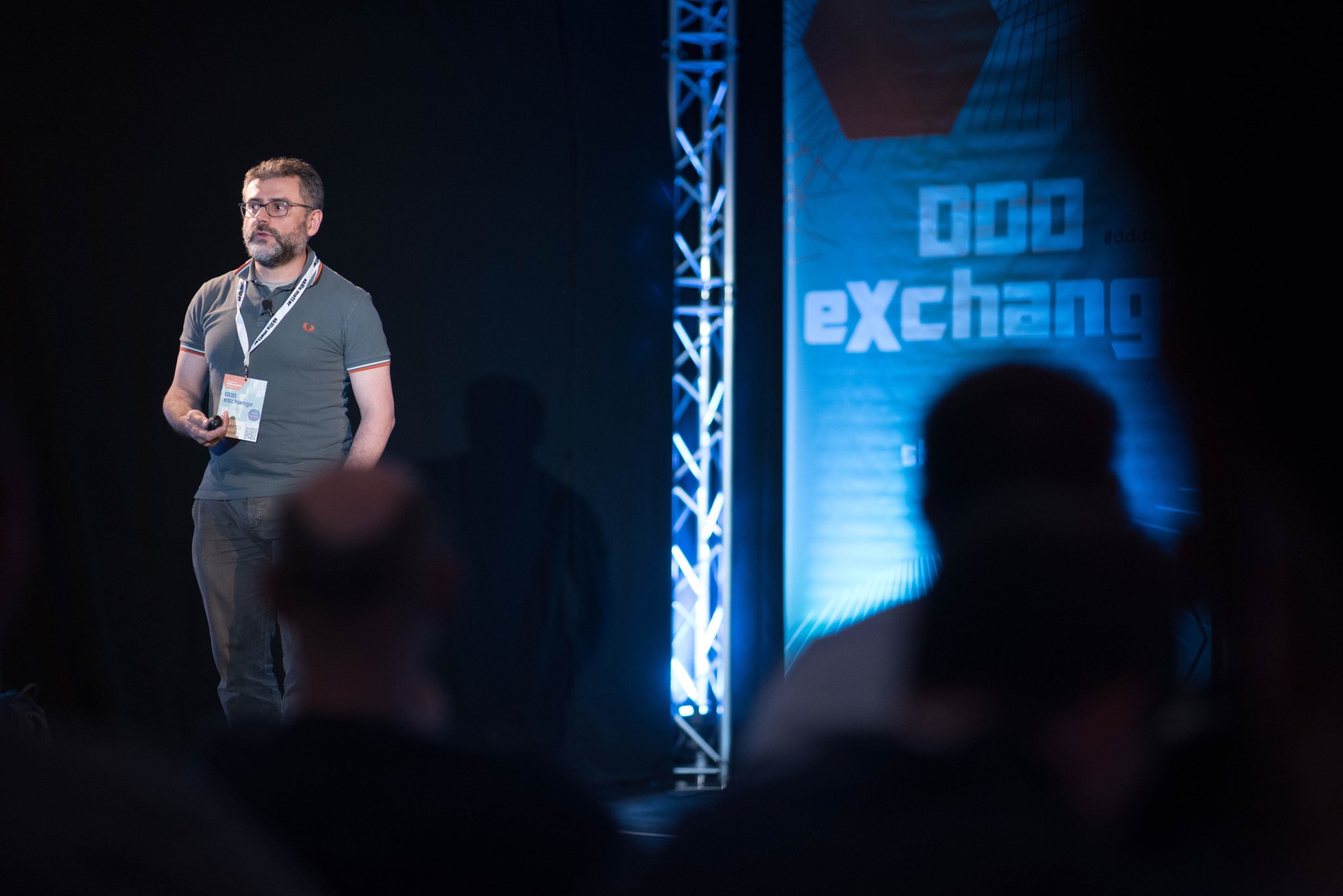 Alberto, inventor of EventStorming and author of the book Introducing EventStorming – An act of deliberate collective learning, can proudly boast nine #DDDX as public speaker (one of which took place in New York City… from the Big Smoke to the Big Apple and back!), he's been involved in the event since its first edition, and the majority of his talks were indeed keynotes. Not too bad, isn't it? 🙂
If you're reading this blog post, you're surely looking for the video of Alberto's keynote at DDDX 2018. You're not the only one, someone else has been following Zio on twitter…
Et voilà: Alberto's keynote talk, which closed an extremely interesting first day of the conference (with talks from the likes of Eric Evans, Marcello Duarte, Nicole Rauch, Jenny Quillien, Cyrille Martraire, and many more), is titled "Joys and Pitfalls of Collaborative Modelling" and its abstract is:
Modelling together can be a bliss, or it can turn into a painful experience. Shifting from an individual activity to a shared, collaborative one will expose thinking habits and fallacies that play a surprising role in our design process.
In this talk, you'll explore some of the common pitfalls of collaborative modelling DDD & EventStorming style, and highlight the possible actions to enhance or mitigate the effects of an unconventional approach.
By drawing a parallelism between songwriting and software modelling (raise your hand if you can say what was Alberto's greatest contribution to the community!), Alberto guides us through his journey made of orange sticky notes and paper rolls taped on the wall. That's right, we're talking about EventStorming!
But it's not only about that.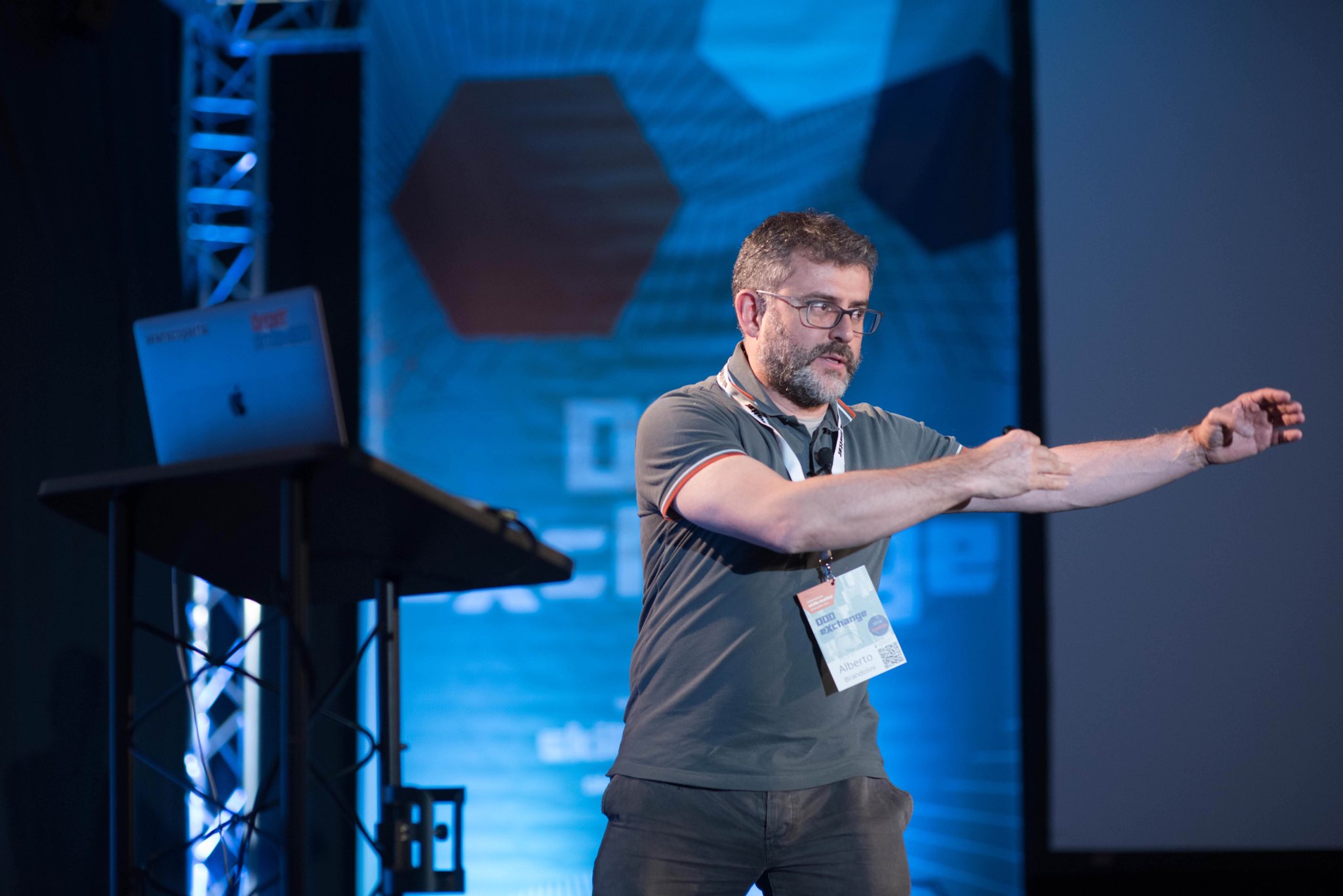 As inspiring as all of his keynotes (you might have noticed his talk has been live-tweeted like crazy during the presentation!), Alberto's talk deep dives into what he defines the second part of any EventStorming session. Not the Big Picture one, rather the Software Design one.
When you can move on having as a starting point all the bits of your domain that you've explored and observed, and once you've created a common understanding of the domain among all people present. It's time to model and design your software now. Good luck! 🙂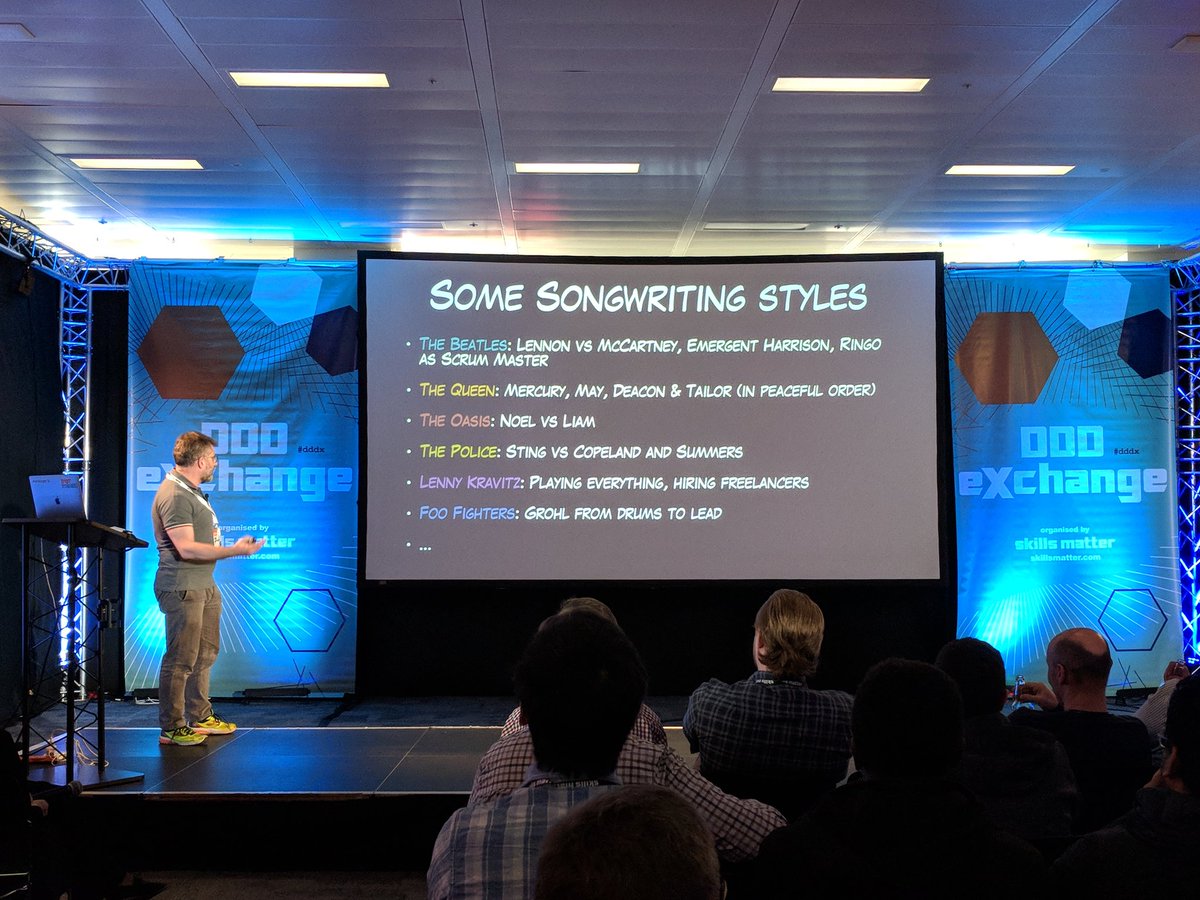 As mentioned, with constant references & metaphors to the songwriting process among a band, Alberto deals with key issues like working with others, respect, the importance of people and personalities, how to reach an agreement, and how challenging this might be. All things we've been dealing with since… day 1 in our lives! 🙂
Curious? Below you can find the full video.
Pics credits: Ed Telling, Skills Matter, Cyrille Martaire, Triple D.
Learn with Alberto Brandolini
Alberto is the trainer of the EventStorming Remote Modelling Workshop and DDD Executive View Training.
Check out the full list of our upcoming training courses: Avanscoperta Workshops.