A Training for Trainers: Training from the Back of the Room
What happens when you gather (almost) all of your trainers in a room for two days and give them the tools to create from scratch or reshape their workshops and courses thanks to an effective "training for trainers" format (Sharon Bowman's "Training from the Back of the Room")?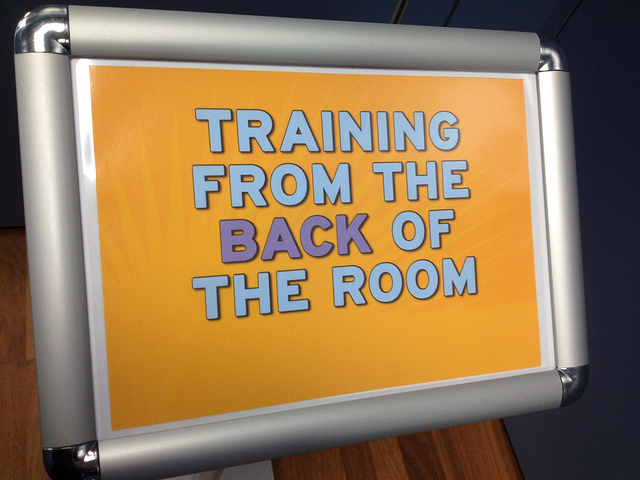 How powerful is it to challenge the traditional ways we believe people learn, and put in practice new learning techniques which benefit both the learner and the trainer?
What just happened in Bologna was quite magical, and by the end of the two days everyone's expectations had clearly been surpassed in many ways.
Our community is now stronger than ever, and here's why.
We are Learners!!! Our mission
Avanscoperta's founder and EventStorming's inventor Alberto Brandolini (aka @ziobrando) opened the two-day retreat with a welcome speech (watch it here, slides here) focused on explaining what our mission is and why we felt it was the right time to hold an event such as our first retreat for all of our trainers.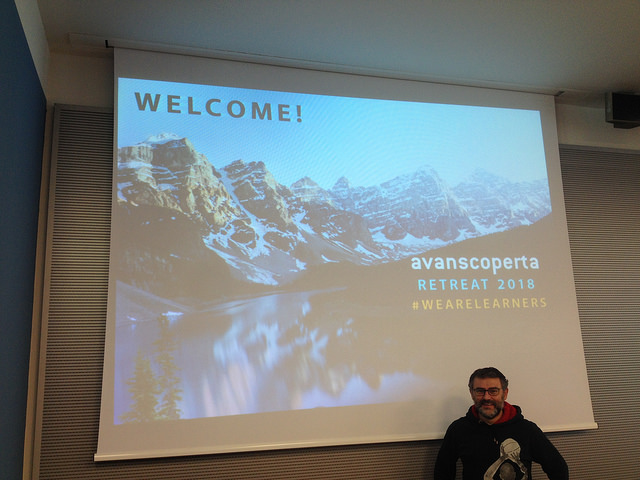 What's our mission, then? It all started almost 10 years ago when Alberto decided it was time to make things right and sort out that big pile of bullshit (remember the Brandolini's Law?), and one person was not enough to do such a thing.
How do we do this?
By providing learning opportunities to professionals and companies with the aim of improving their professional (and personal) lives.
Since one person is not enough to sort things out, we need to put together an army of trainers and professionals who can spread the word and help organisations improve at all levels (from a software development perspective as well as from a team management one, and so on) in order to change the world. That's our Community for you! 🙂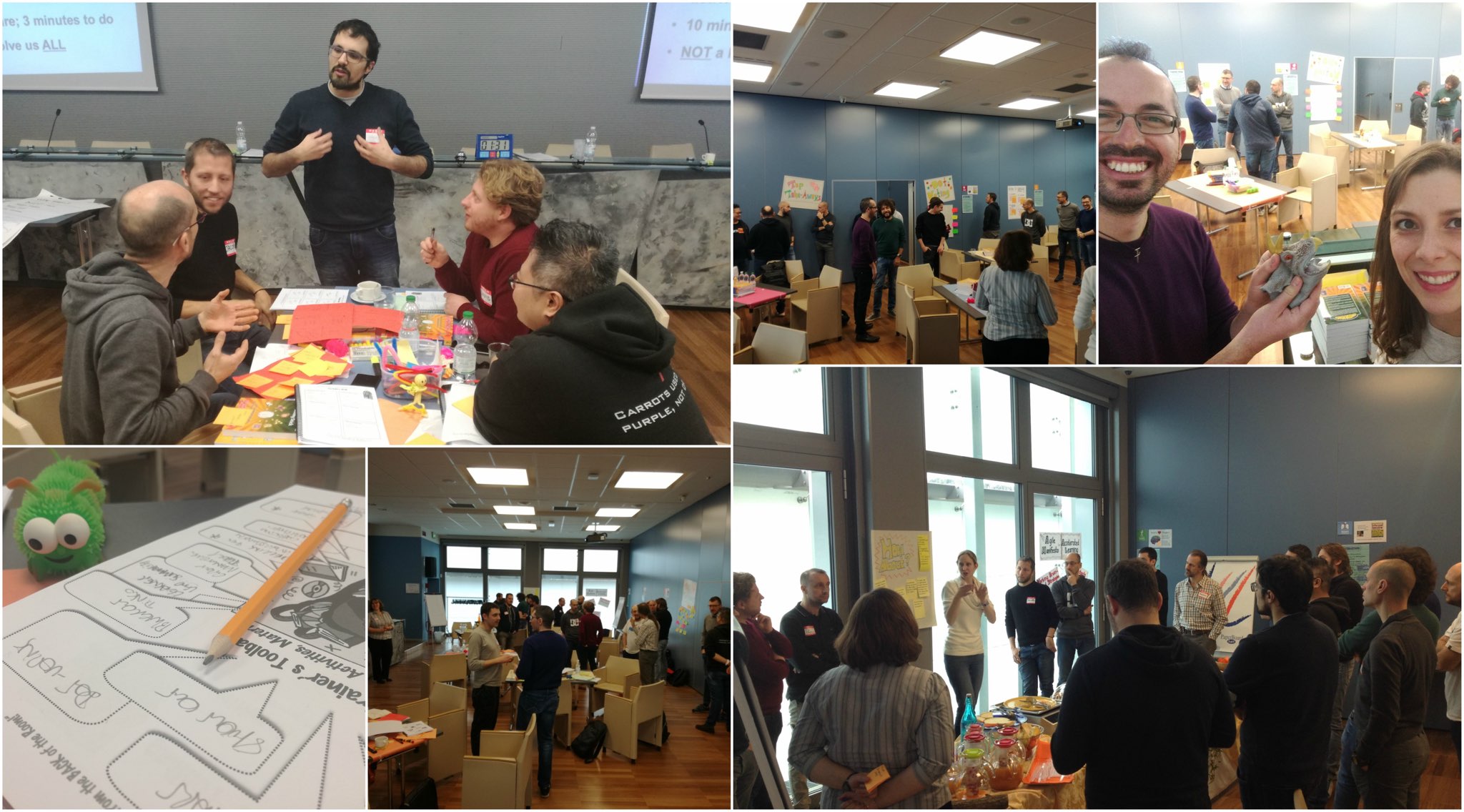 We are Learners, and the pleasure of continuous learning, and not only teaching, is our drive and mission.
Join our journey! 🙂
Training from the Back of the Room
With the help of the the amazing Training from the Back of the Room certified facilitator, Teri Frith, and her assistant Teresa Binks, we started a new exciting journey towards unexplored ways of learning and the wonders of our brain.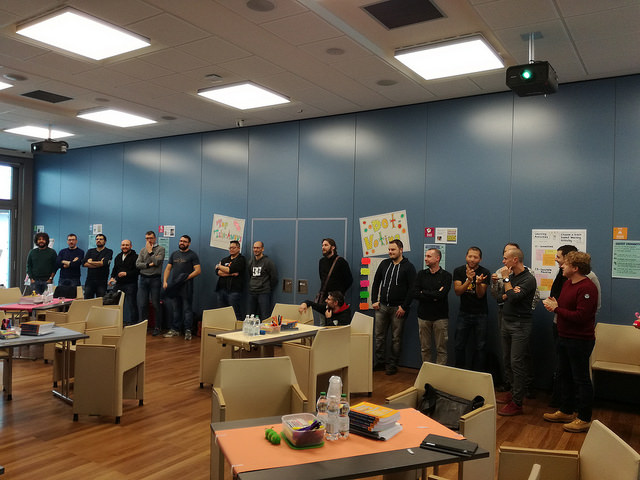 Did you know the person who's actually learning is the person who talks, and not the one who listens?
Have you ever thought about the importance of standing up and moving around during a workshop, so that the body can recharge its batteries?
These are just few of the core concepts that were discussed during the workshop. Lots of assumptions and myths (in fact, one of the most effective games for helping people learn something is called "Myth or Fact", used to validate or destroy assumptions!) about how we learn and what makes learning a lasting and positive experience have been destroyed.
Long live the brain!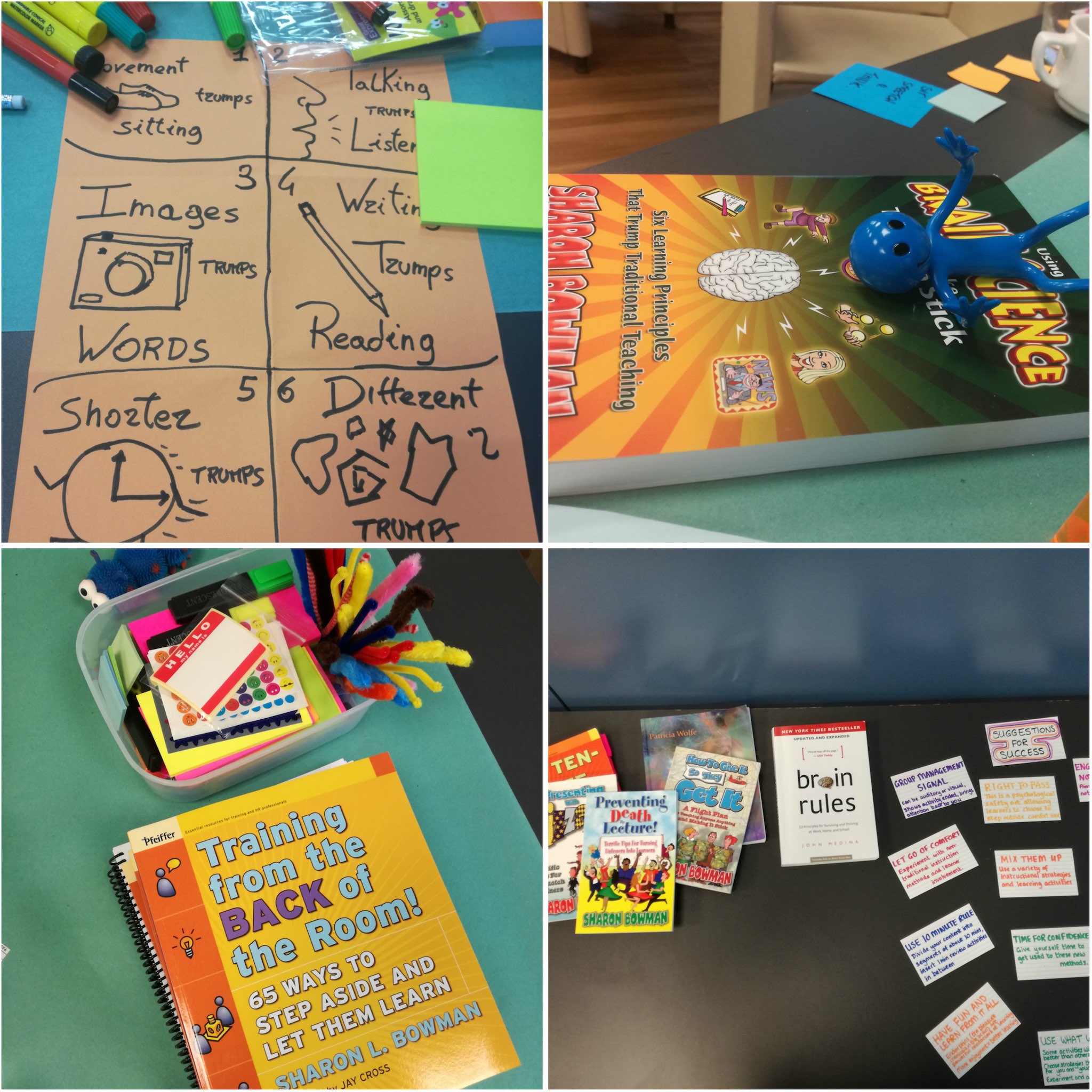 The "training for trainers" format Training from the Back of the Room, invented by Sharow Bowman, explores how the human brain actually learns, which is very different from traditional assumptions about learning.
Attendees get to experience the most current "cognitive neuroscience" – the brain science behind all effective instructional design and human learning.
Going through a series of highly interactive and engaging exercises (there's never been more than 20 minutes of uninterrupted "lecturing" from the trainers, in the pure spirit of the Training from the Back of the Room format!), as a final exercise our trainers and teachers were able to** put together an entirely new workshop**, or give new shape and meaning to an existing one, by following the techniques and patterns just learned during the class.
The results have been quite impressive and we're sure you'll love them too!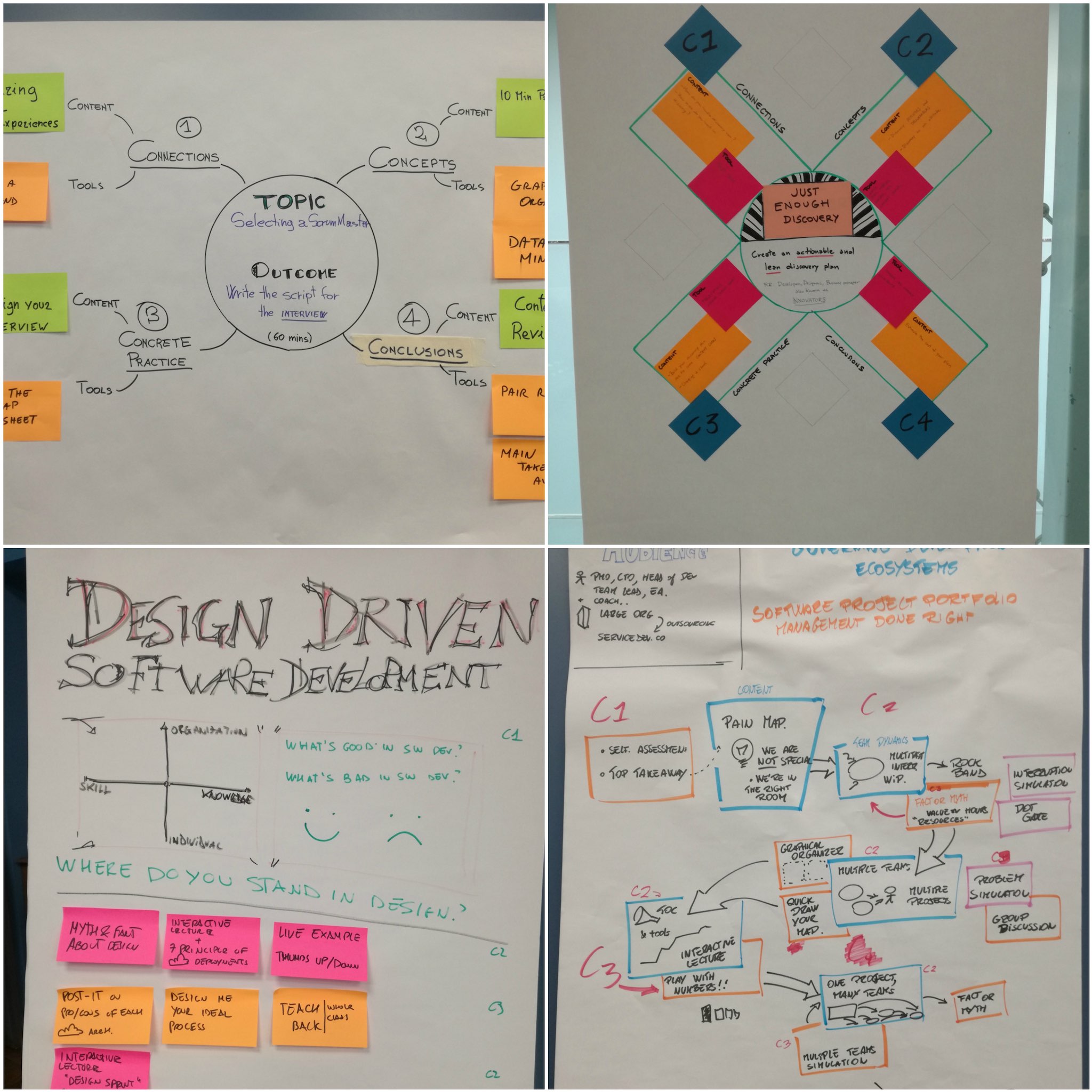 Attendees were encouraged to give constructive feedback to each other, making sure the issues raised were to the point and positively presented.
In a warm, safe environment, everyone was able to share their opinions and give and receive useful information in the light of the teachings shared throughout the two days by Teri and Teresa.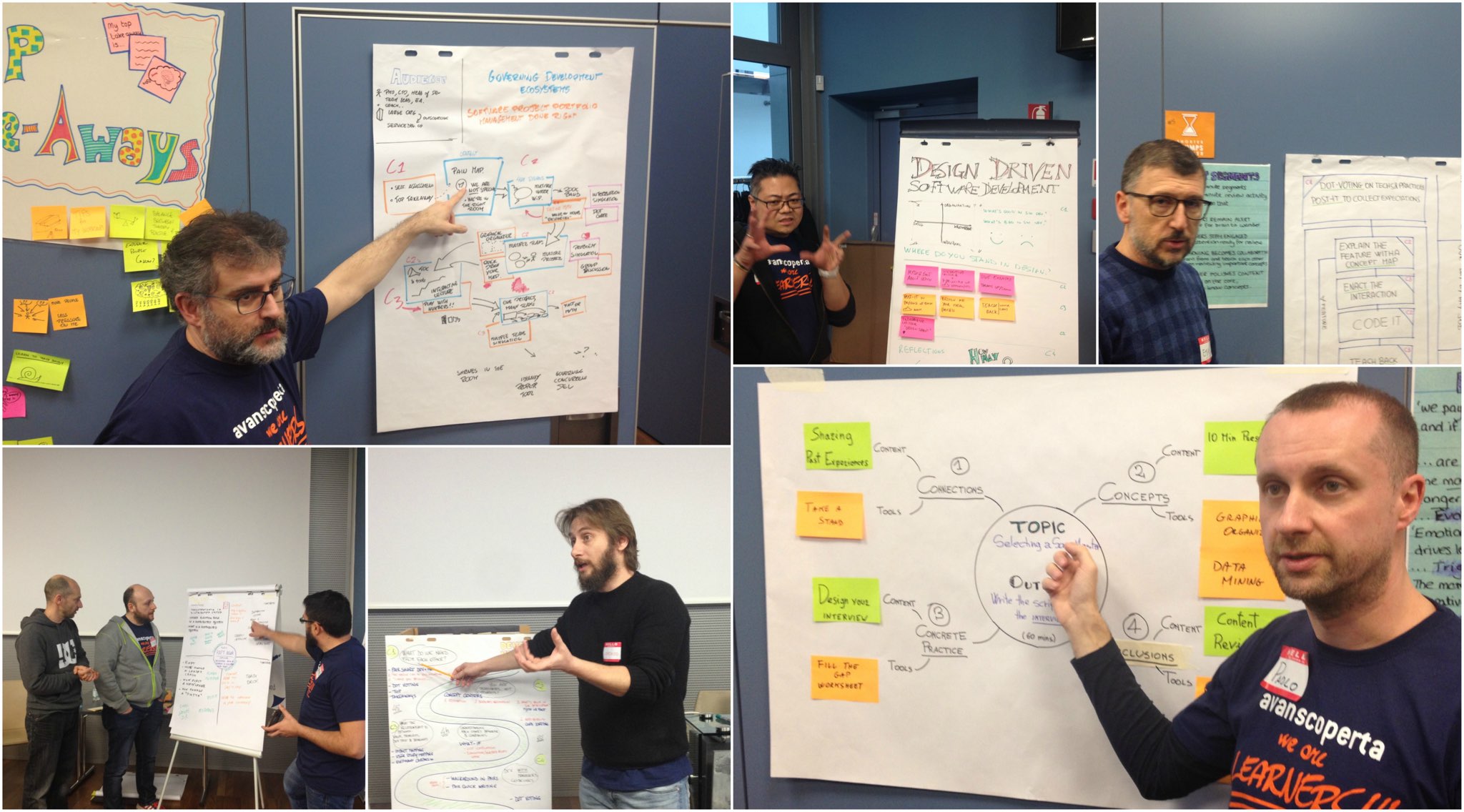 Nerds just wanna have fun!
As you would expect, the fun and playful elements have been key during these days, and some of us said their cheeks were hurting from so much laughing! 😀
We saw how a Carbonara shouldn't be done, and how the hand gesture of a coyote (mind you, a silent one!) can be the sign for saying "shut up" in a nice way (the famous Silent Coyote – thanks Raffaele for this one!).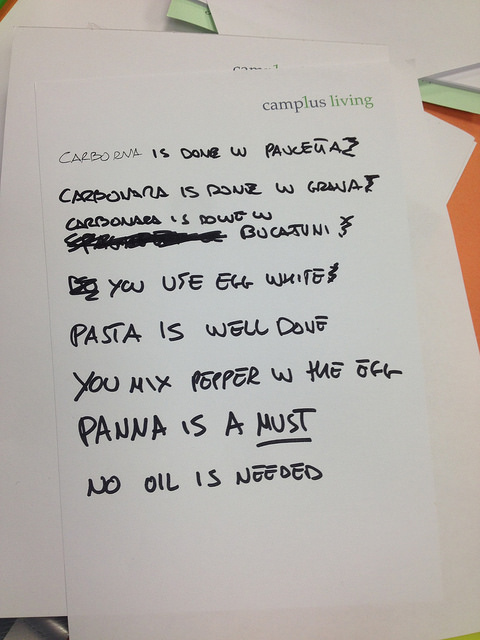 Of course our mascot #DDDino couldn't miss it, and he had a lot of fun seeing old friends and meeting new ones!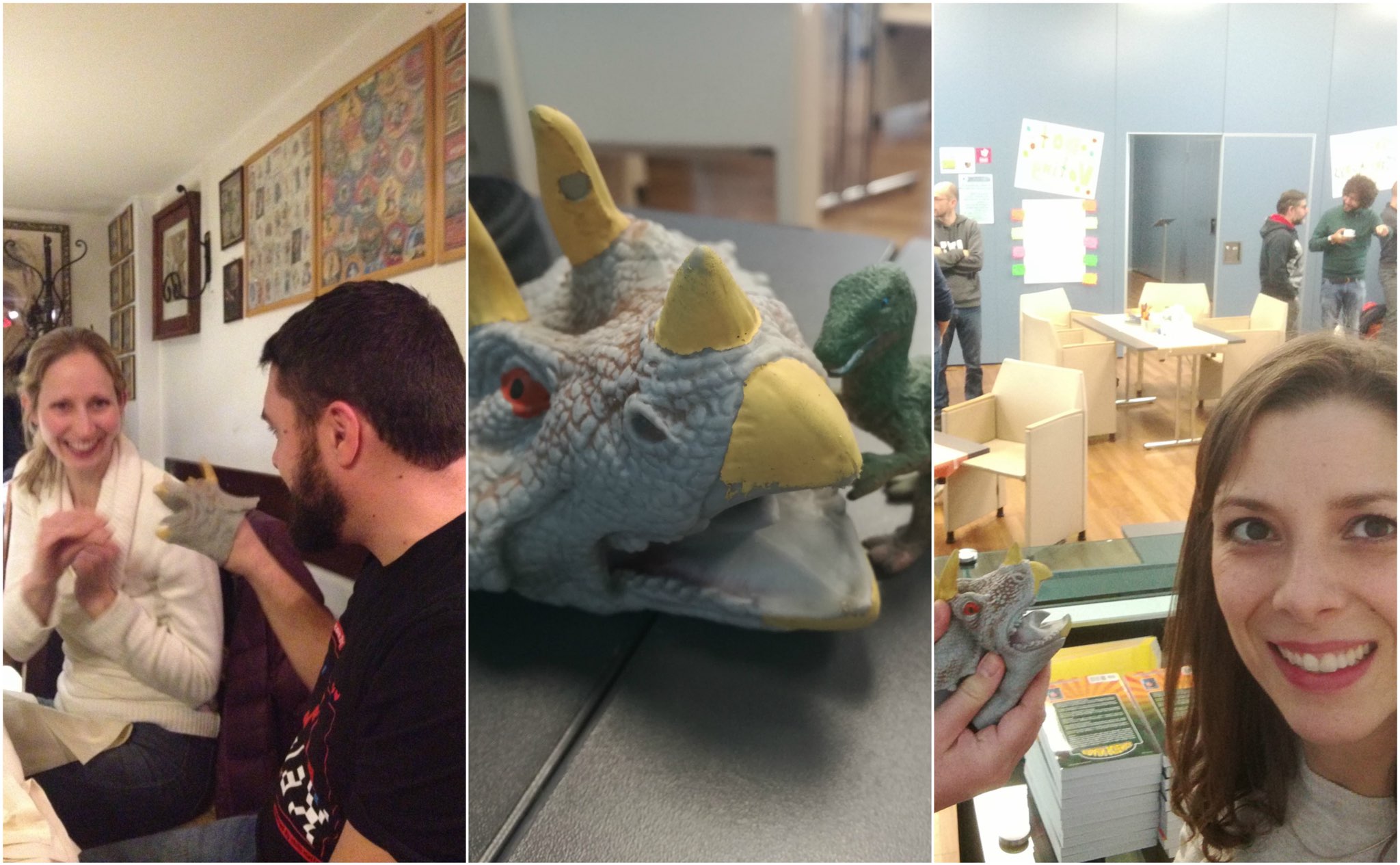 Being in Bologna, one of the many food capitals of Italy, the "eat and learn" experience has been outstanding, and we've confirmed one of the unwritten rules of our workshops: "when going for an Avanscoperta course in Bologna, you'll end up taking on few kilos!" 🙂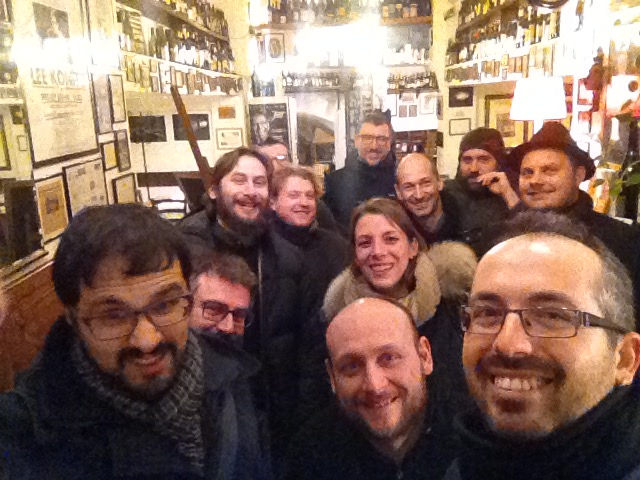 Our Community
By the end of the two days, not only we had a classroom full of energised and enthusiastic people (some of them knew each other from before, some new friendships kicked off just there) who expanded their knowledge on the processes and mechanisms behind the best learning techniques and retaining information in our memory…
It looks like some new workshops are almost ready to be published and made available to the general public!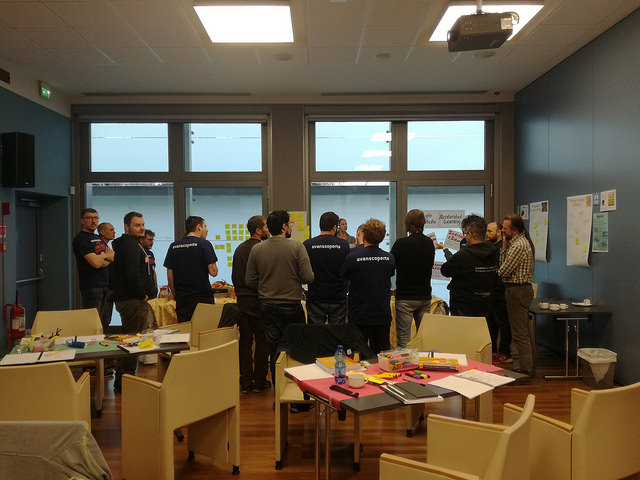 One of the pieces of feedback we received was "thanks for giving us a platform to meet and finalise the last details of the workshop we want to organise with you guys!" 🙂 Isn't that beautiful?
#WeAreLearners
We've been growing a community of experts and trainers in the last ten years, with the aim of helping people and companies improve by organising courses and workshops, and providing consulting services.
We felt it was time to give something back to our amazing family!
In the words of Teri, it was impressive to have 18 geniuses all gathered in one room. Well, they're not only geniuses (surely they are!), they're our community and family, and now it's stronger than ever.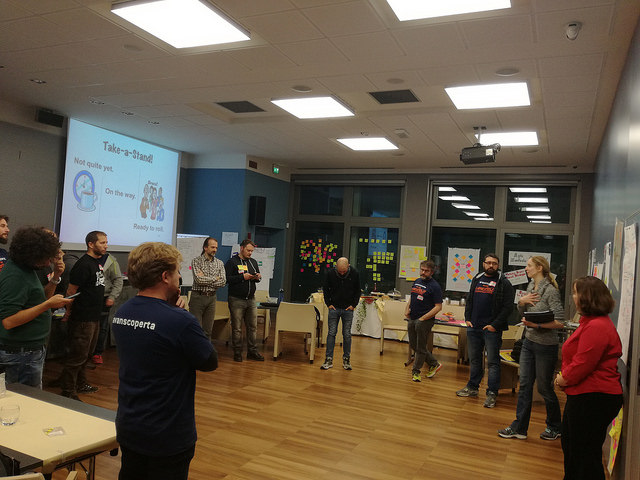 The most exciting thing for us was seeing these amazing professionals sharing ideas, creating new exciting things and, most importantly, just spending time together, enjoying each other's company and making the most out of it.
Even when conversations were not about work, we had the feeling something quite unique was going on.
Although we're quite exhausted right now, we can't wait to organise our second retreat!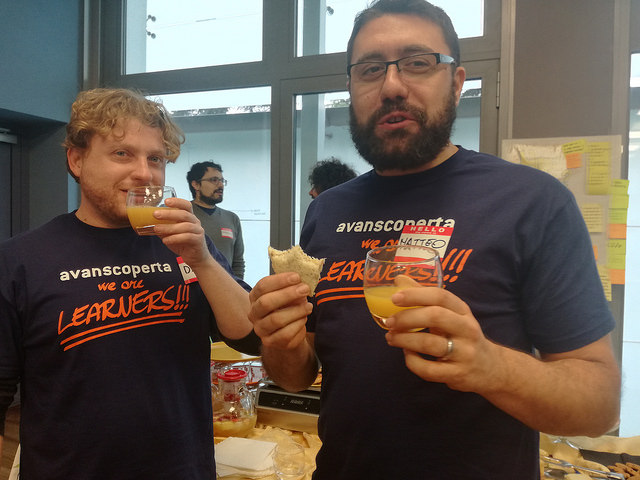 The saying goes "What happens in Bologna stays in Bologna" (or something like that). Rest assured we literally can't wait to share some amazing news with you and launch new to-die-for workshops!
Stay tuned 'cause… We are Learners!!!
Check out the photo album #1 and #2. 🙂
Yeah, cool, that's the "full story", but how did things actually go?
Have a look here… 😀
Learn with Teri Frith
Teri is the trainer of the Training from the BACK of the Room Workshop.
More on Avanscoperta
Check out our upcoming workshops: Avanscoperta Workshops and Training courses.
Get our updates, a hand-picked selection of articles, events and videos straight into your inbox... Once a week!
Subscribe to Avanscoperta's Newsletter (available in Italian and English).